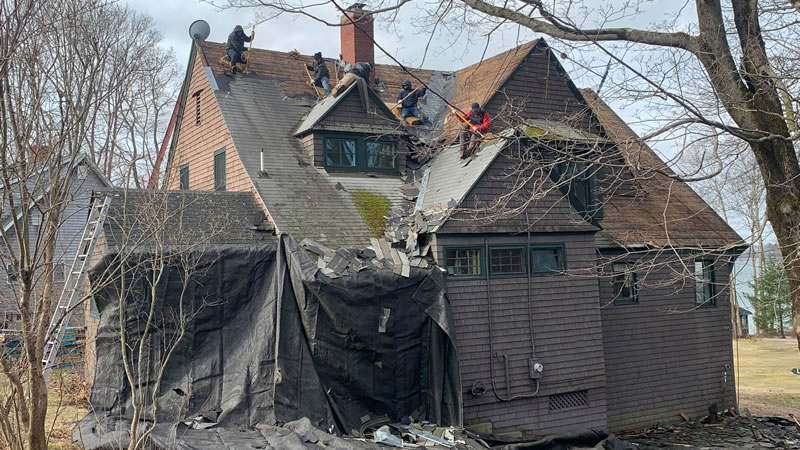 Roof Repair Services Boothbay Region Maine
Finding a leak in your roof or another issue that comprises the integrity of your roofing system can be extremely stressful.  What's even more stressful is not being able to find a reputable roofer who is willing to come out and inspect and repair the problem.
At Ted Weber Jr. Roofing we take roofing repairs seriously but at the same time we want to educate the homeowner so they understand a little more about the roof repair process.
Roof Repairs are often required after a severe storm or if your roofing material is just old and starting to break down. There can be a whole host of reasons your roof is failing and needs repair but it's important to get it repaired as quickly as possible because your roof is a major part of your "building envelope" and if the repairs are not taken care of quickly then your home or it's contents could suffer from water damage and mold.
Ted Weber Jr. Roofing is a full service roofing company based out of Wiscasset Maine.  We specialize in roofing inspections and roofing repairs for storm damaged or poorly installed roofing that is beginning to fail.  Whatever the cause of your roof damage Ted Weber Jr. Roofing can repair your roof for you.
How Do You Know Your Roof Needs Repair?
One of the most obvious reasons our clients will phone us with a roof repair issue is because they've discovered a leak!  If your roof is leaking you definitely need a professional to inspect your roofing to see where the problem might be.  It's not always as obvious as you might think, water can take strange and long pathways once it gets inside your home.  Other obvious signs you need roof repair could be missing or damaged shingles, missing shingles are easy to spot but it takes a trained eye to spot damaged shingles.   Damaged shingles aren't always visible to an untrained eye but shingle damage greatly reduces the service life of your roof.
Another common cause of roofing issues we are called out to repair would be missing, damaged or poorly installed flashing around chimneys, pipes or seams between your 1st or 2nd story or dormers.  If flashing is not installed properly, or gets damaged it becomes a wide open gateway for water to enter your home.
Ted Weber Jr. Roofing  helps Maine home and business owners inspect and repair their damaged roofs.  We have experience working with insurance companies and can make the process as painless as possible for you.  We understand the paperwork process and how to speak to your insurance adjuster about your roofing repair requirements.
Roof Repair Service
Chimney Flashing Repairs
Roof Ventilation Repairs
Structural Roof Repairs
Leaky Roof Repairs
If your roof has been damaged and you need to have a professional complete the repairs for you then you should look no further than Ted Weber Jr. Roofing.  Our highly experienced roofing crews can make short work of your roofing repair project and will make sure the job is done right the first time.
If you'd like to schedule your roofing repair estimate please give us a call at (207) 751-3186 or fill out our contact form and we'll get right back to you.